Installing Contest Creator version 2.0 has never been easier!
Follow the steps below to get running in just a few minutes:
1. Download the plugin "wcc-contest-creator.zip" file received after completing your purchase to your computer.
2. Log in to your WordPress admin, usually located at yourdomain.com/wp-admin.
3. Visit plugins on the left menu > Add New Plugin. Select Upload and choose the zip file you saved earlier to your computer. Then click Install now.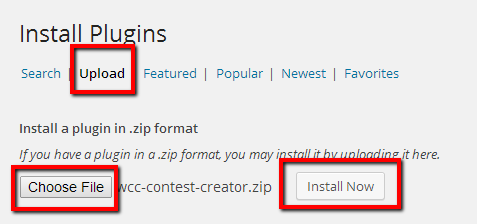 That's it!
Don't forget to activate your plugin with your license key to start enjoying all that Contest Creator has to offer :)